T18S 18V BRUSHLESS MOTOR CIRCULAR SAW
Trend High Performance Brushless Motor 18V 165mm Cordless Circular Saw with Laser Guide Function and Hanging Hook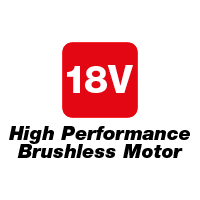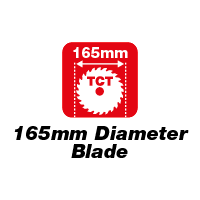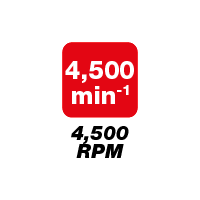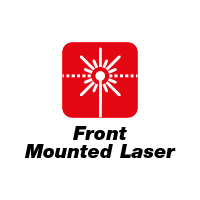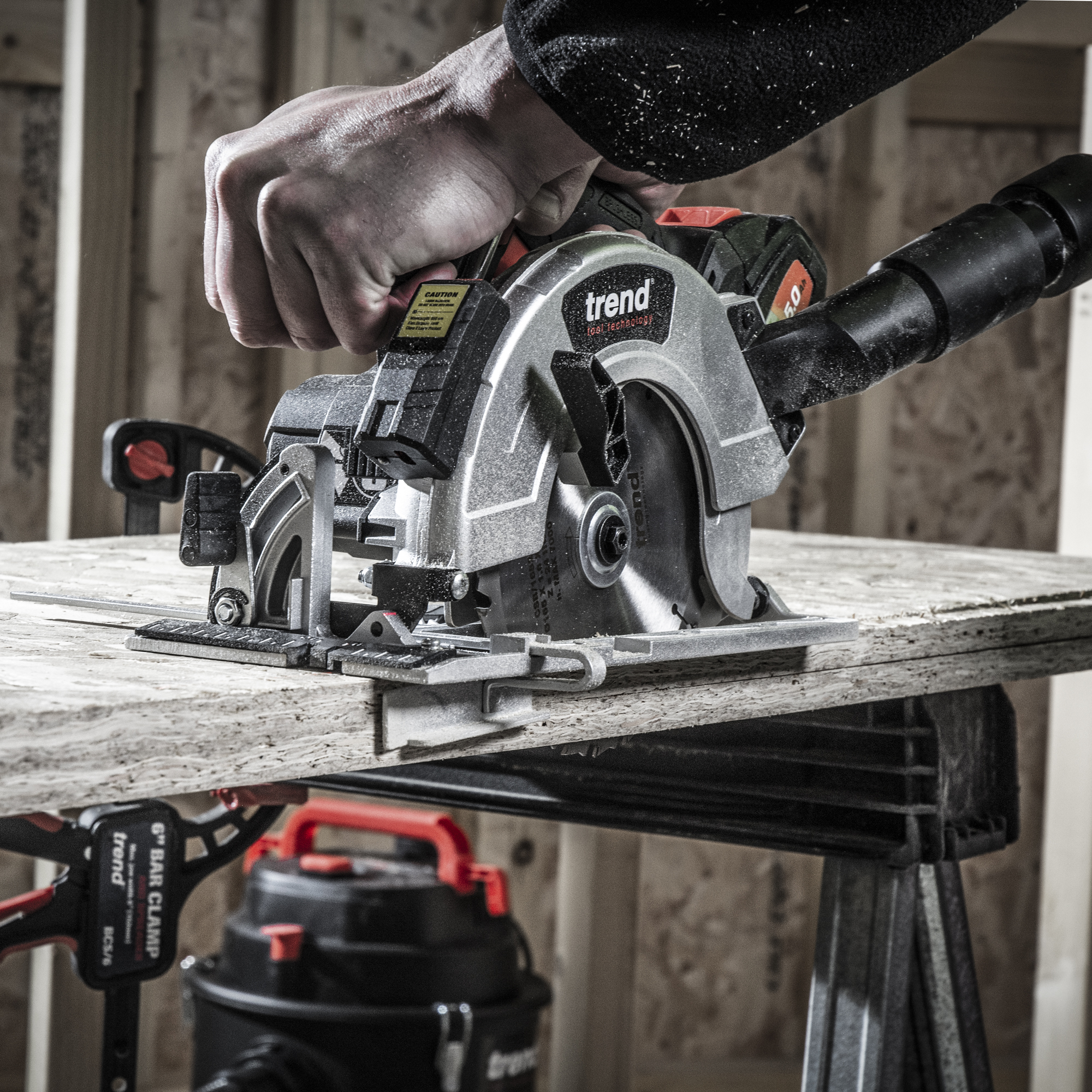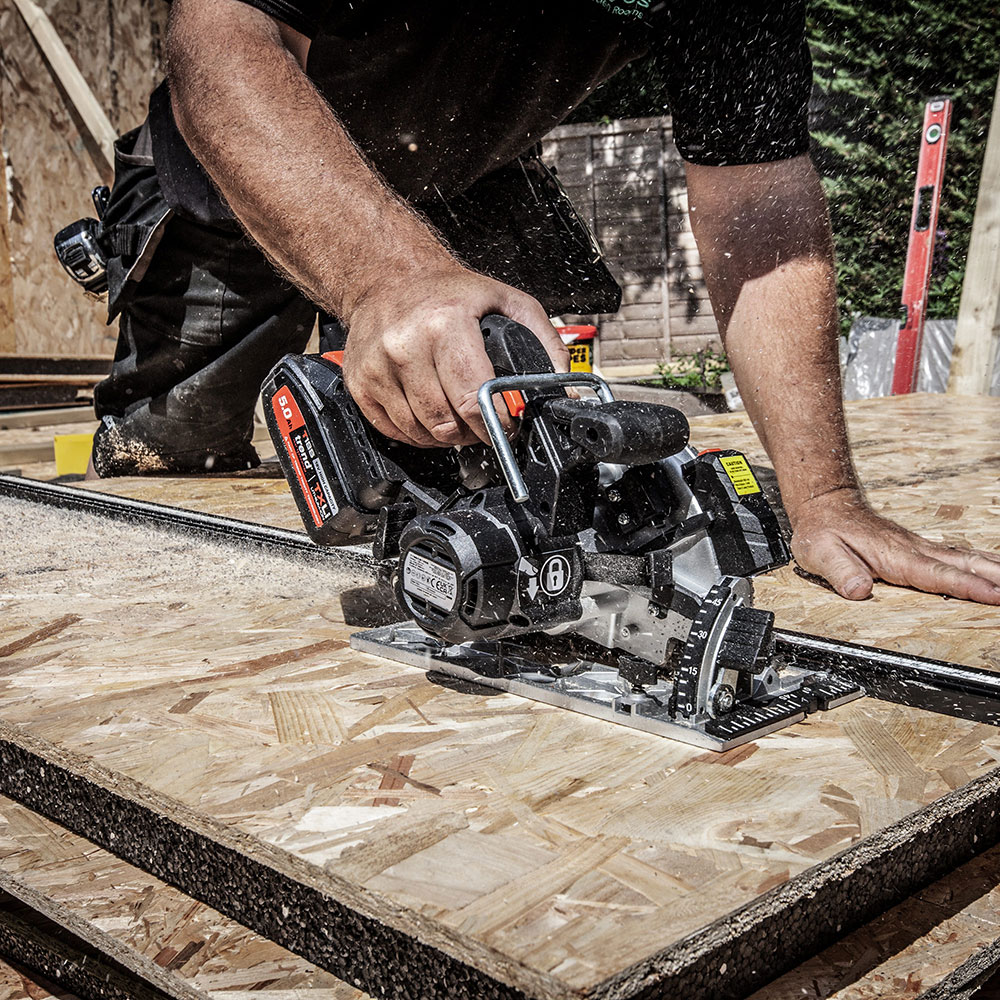 High Performance 3600rpm Trend Brushless motor for maximum cuts per charge.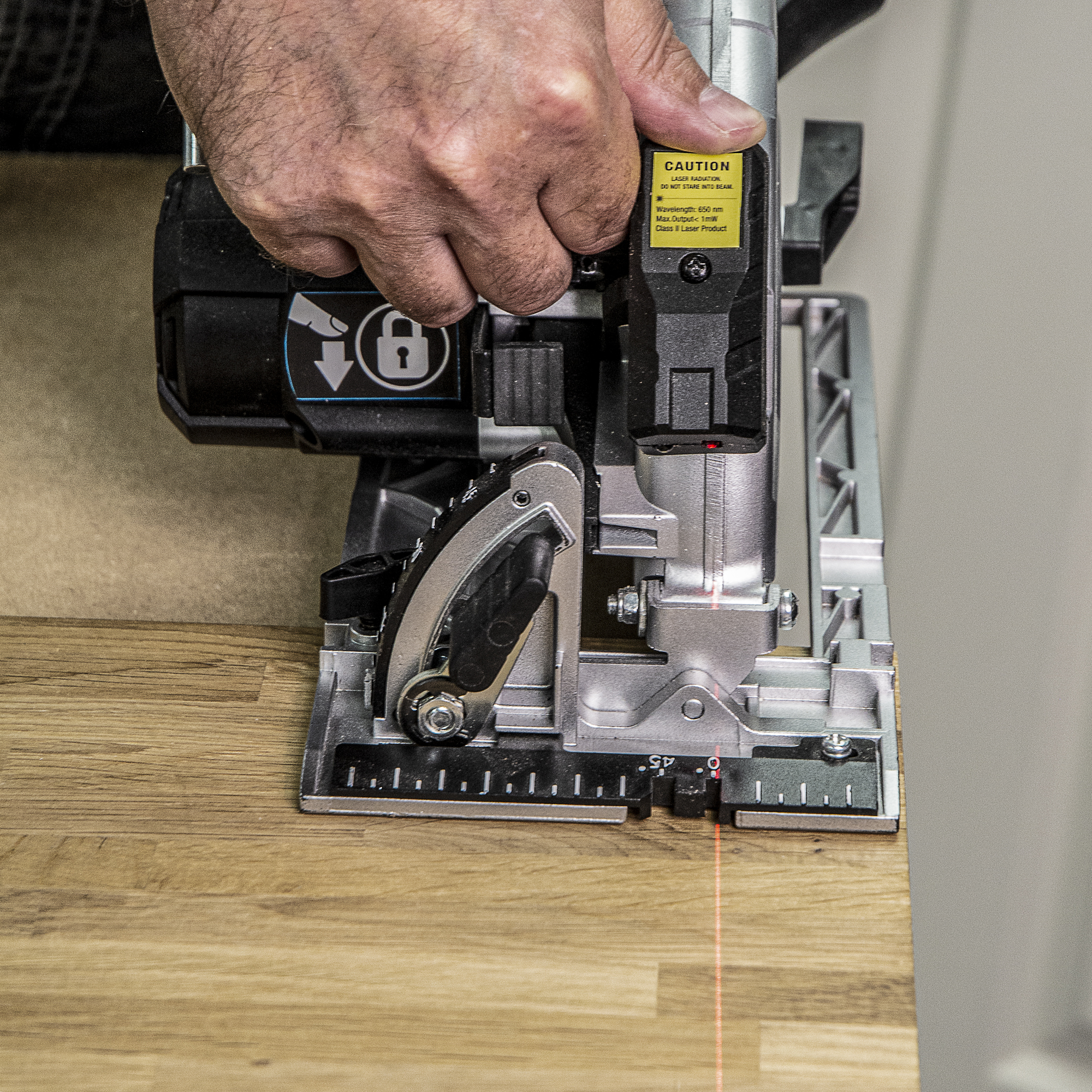 Laser guide function for easy alignment to layout lines when cutting long lengths.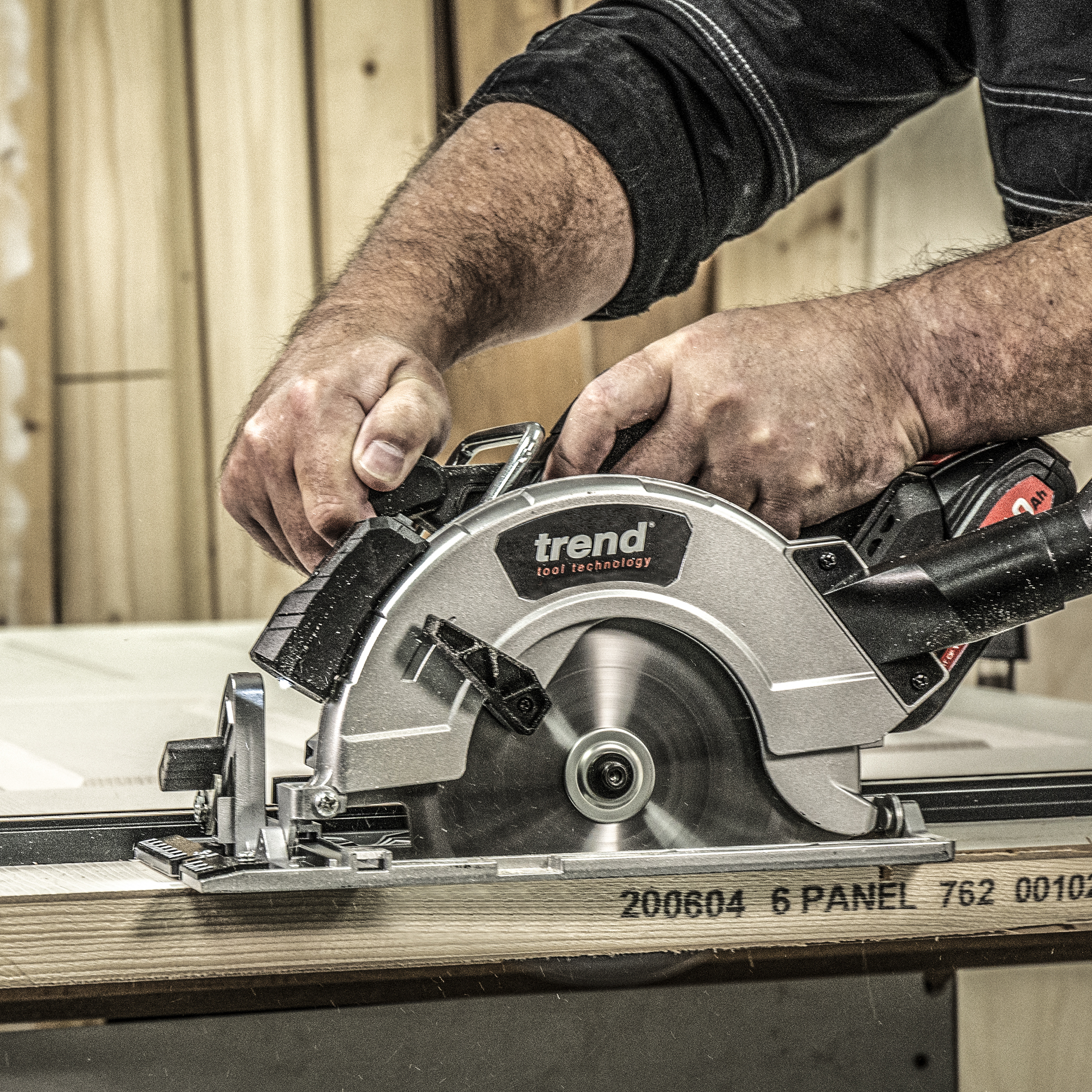 Aluminium base plate for accurate trimming with guides and straight edges.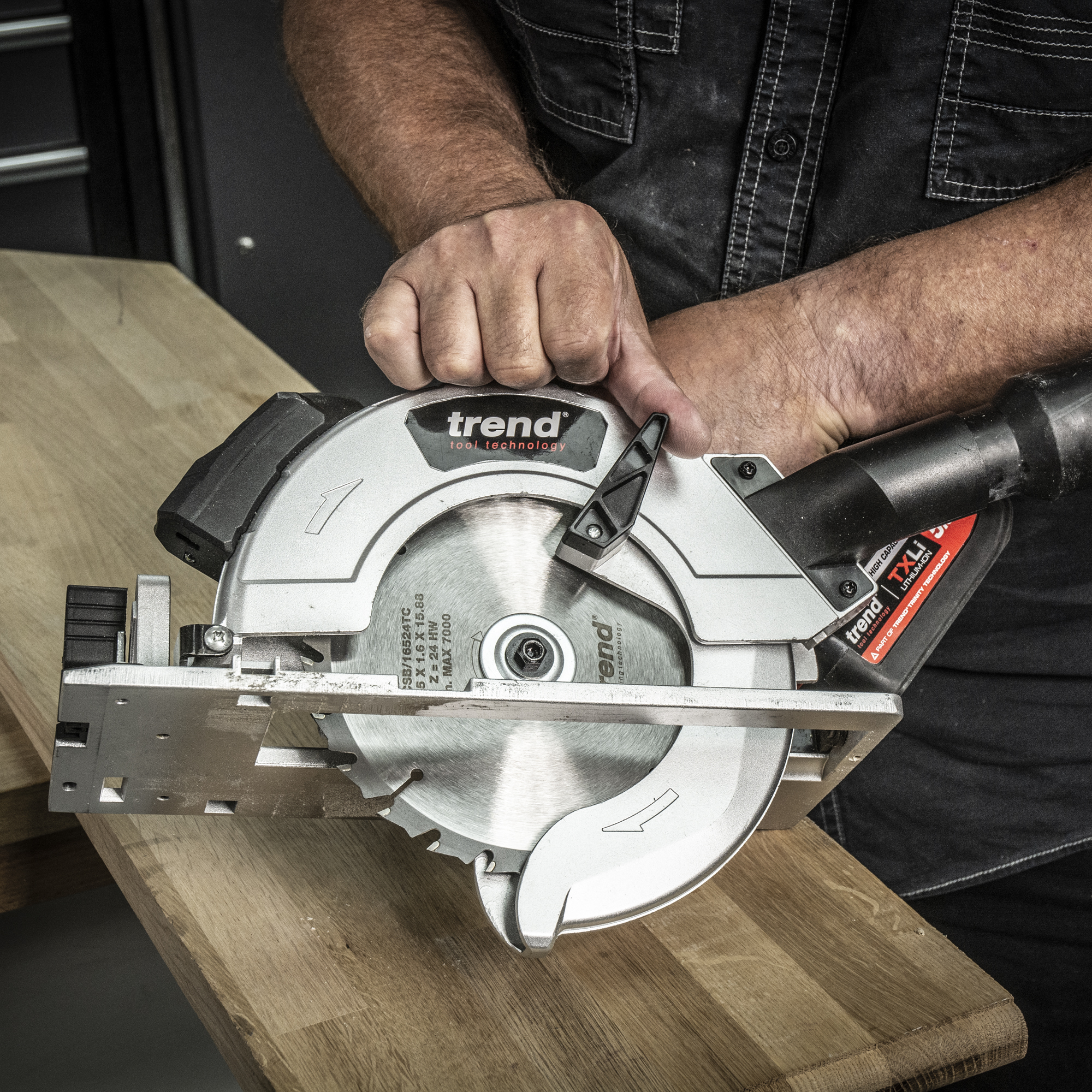 Aluminium upper and lower guarding for heavy duty trade use and increased safety.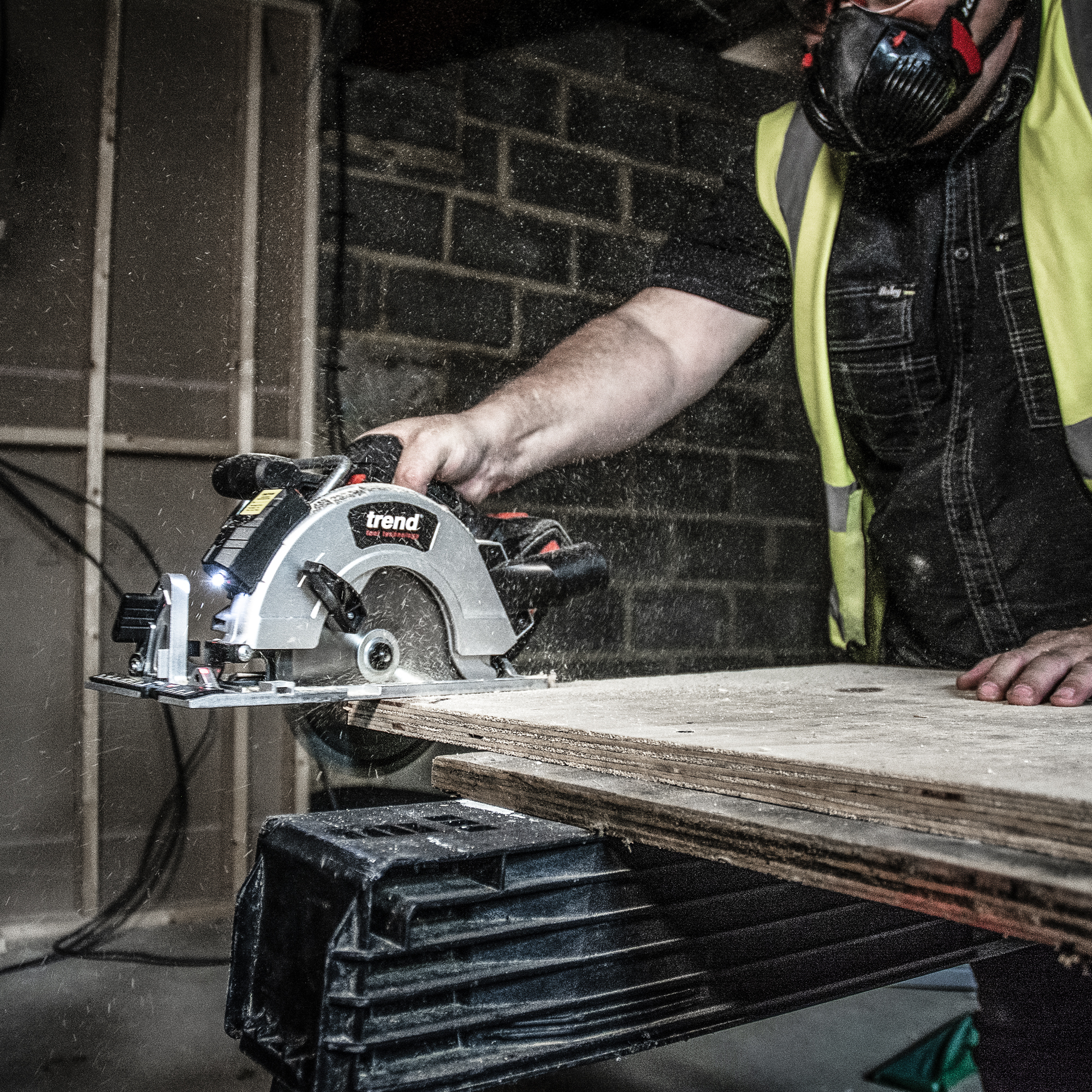 Brushless motor for increased performance, reduced motor wear and tear and a compact lightweight design.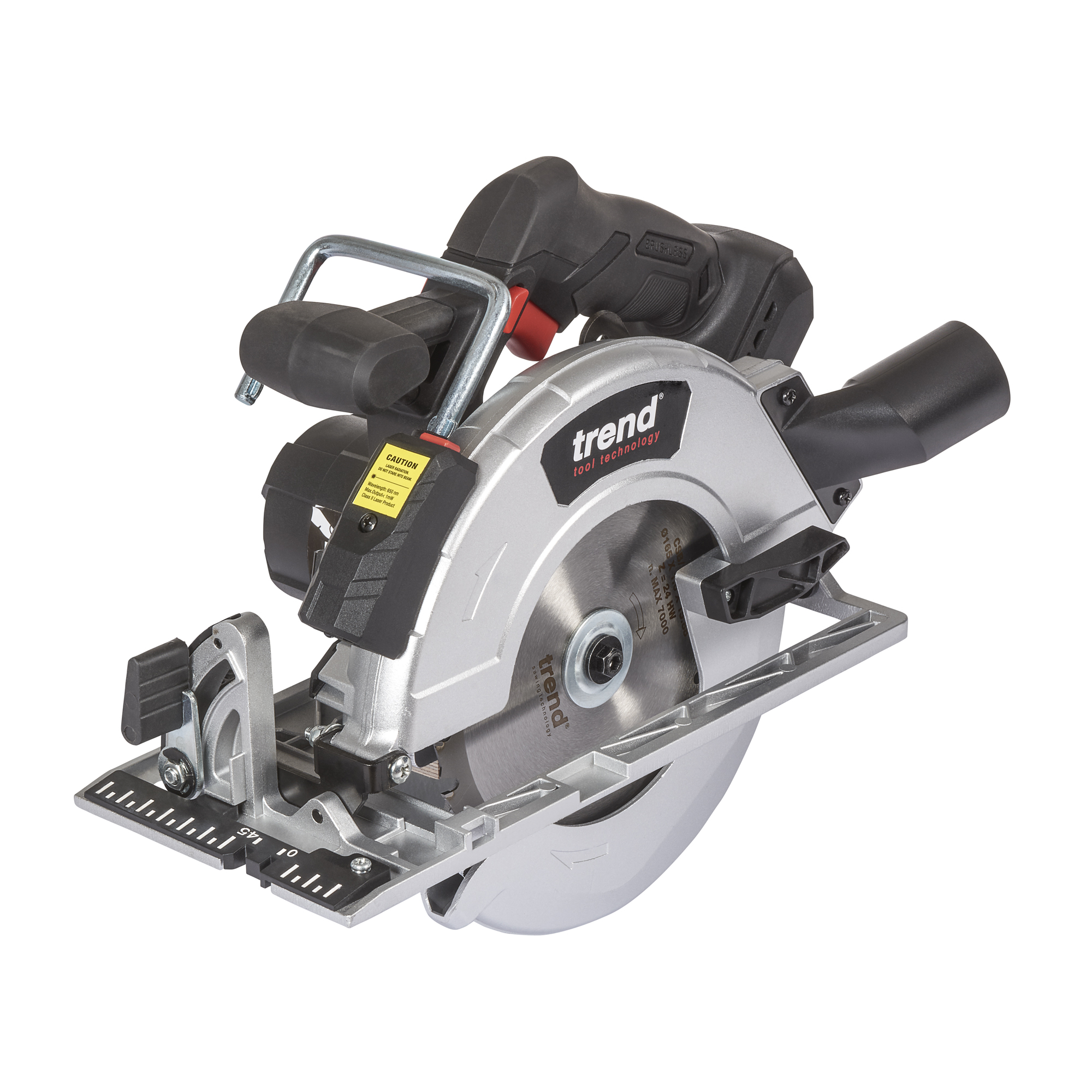 Compact design for easy control across a wide range of different woodworking applications.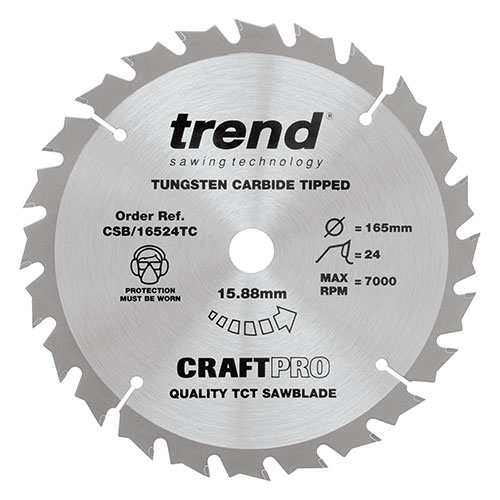 Supplied with high quality Trend CSB/16524TC 24 Tooth blade for general purpose ripping and crosscutting.
HIGH PERFORMANCE BRUSHLESS MOTOR –Longer motor life, Higher Power, Further run time.
FRONT MOUNTED LASER – Accurate, quick alignment to cut line.
50 degree MAXIMUM BEVEL CUT – 5 Degrees overcut for 'out of square' applications.
ALUMINIUM BASE – Precision aluminium casting for assured accuracy, milled edges for positive alignment to straightedge guides.
ALUMINIUM GUARDING – All metal top and bottom guarding for maximum durability and safety.
165mm DIAMETER BLADE – Popular blade size covers a wide range of tooth styles and pitches.
24 TOOTH TCT BLADE – High quality Trend CSB/16524TC blade, perfect for all round crosscut and ripping work.
COMPACT SIZE – Manoeuvrable design for easy control.
TOP HANDLE – Front top grip for additional control and support.
HANGING HOOK – Fold out metal hook to allow the saw to hook over rafters and joists to keep hands free for positioning work.
55mm CUT DEPTH AT 90 DEGREES – Ideal for rafter and joist cutting on first fix work.
40mm CUT DEPTH AT 45 DEGREES – Allows mitre cuts on CLS construction timber.
MULTI TRADE USE – Ideal for first fix carpentry on studs and joists, second fix work on sheet materials, worktops and panels, trimming doors and more.
TREND TOOL CONNECTION – Takes all Trend 18V Li Ion batteries.
18V BL 165mm Circular Saw (Bare) : T18S/CS165B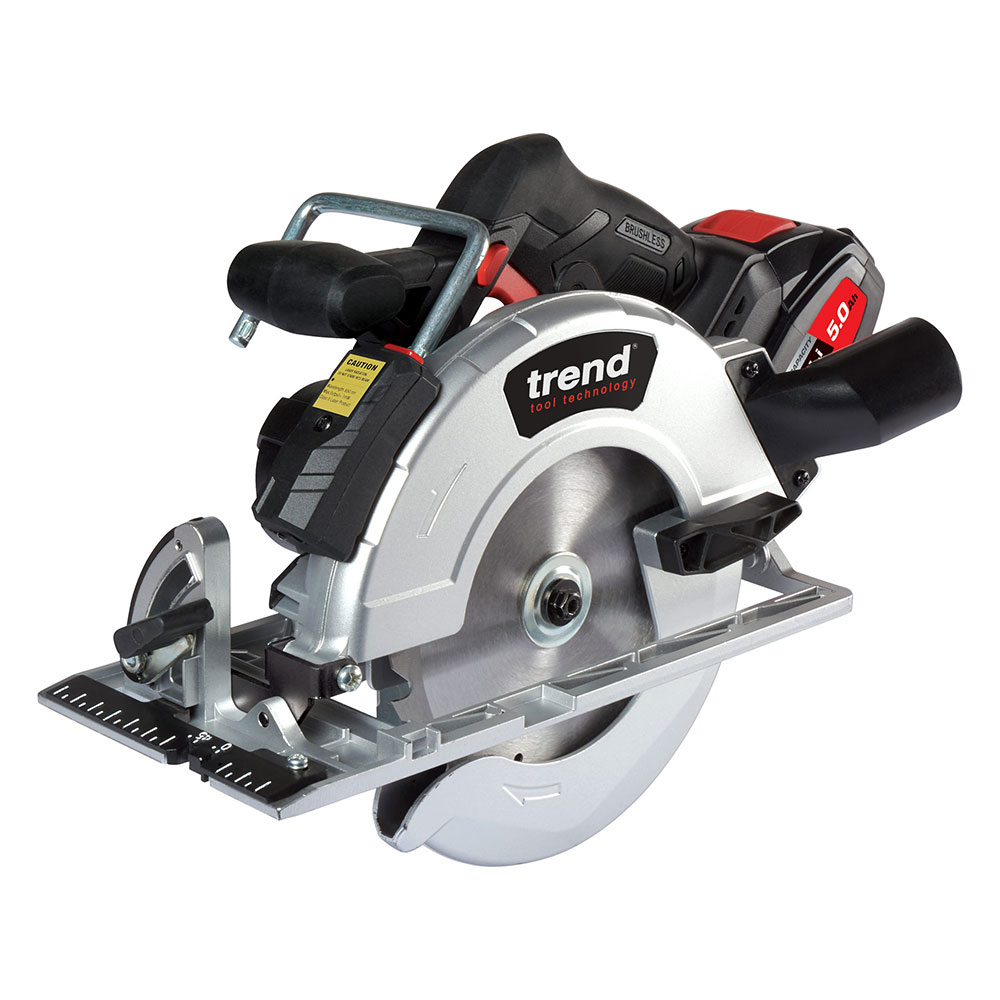 18V 2Ah 18650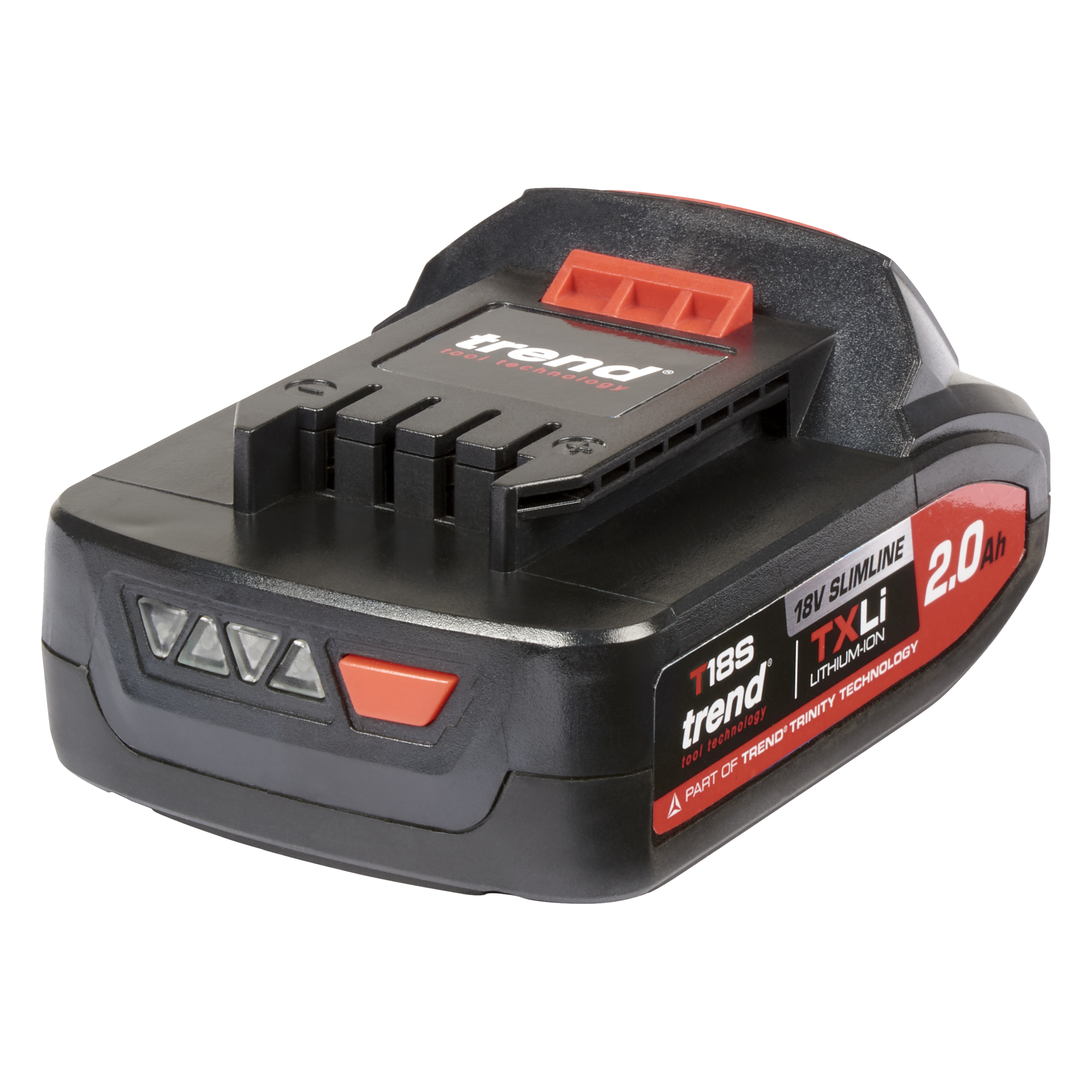 For quick and easy jobs, a compact and well balanced battery (32 mins charging time). Suitable for light sanding, light drilling and less demanding cutting.
18V 4Ah Slimline 21700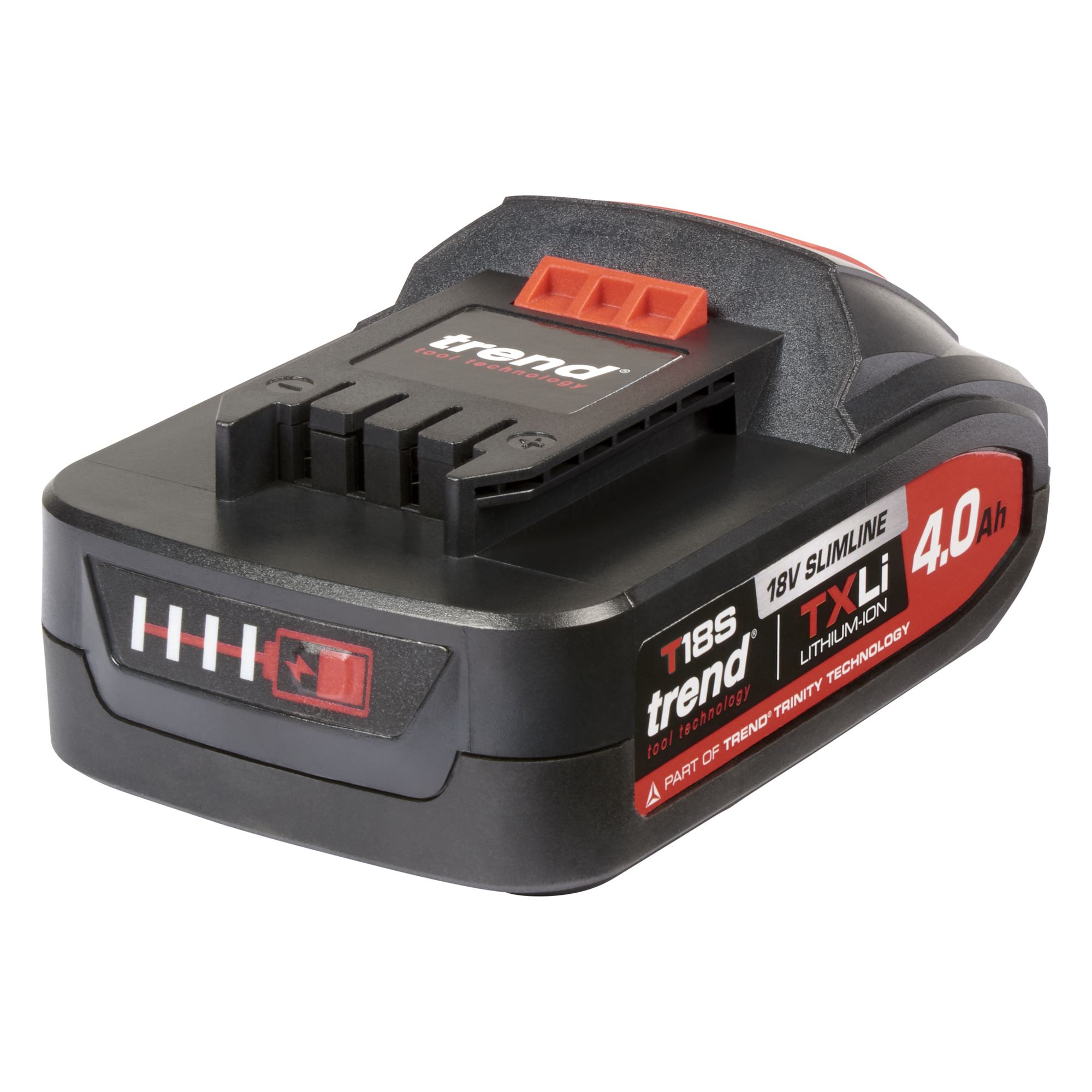 A Slimline, versatile and powerful battery (48 mins charging time). Suitable for routing applications, heavy sanding & drilling and demanding cutting.
18V 5Ah 18650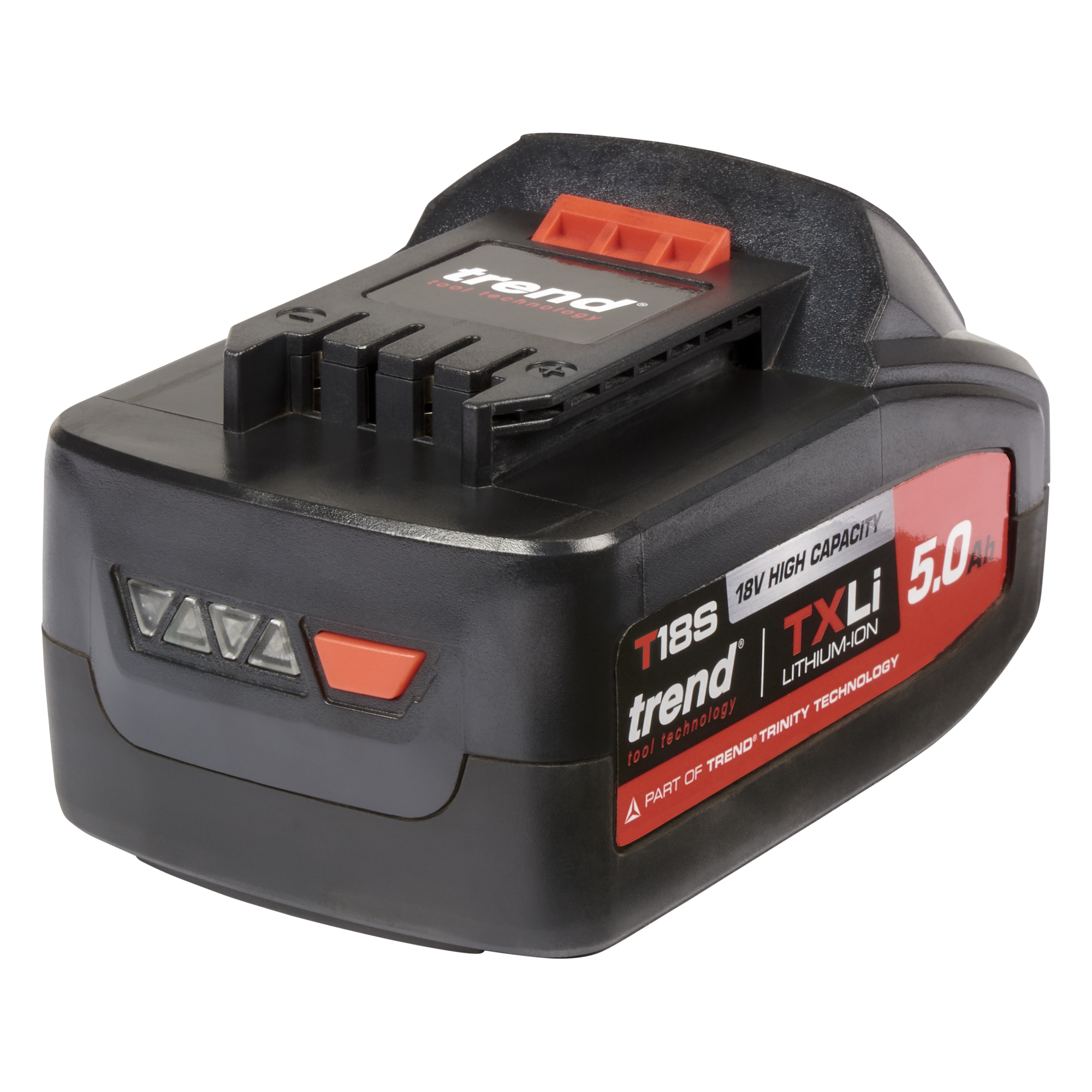 Designed for extended capacity and power usage (54 mins charging time). Suitable for repetitive tasks in higher demand materials and all 2Ah/4Ah applications.
Accessories for your product
CSB/16524TC - CraftPro Sawblade 165mm X 24 Teeth X 15.88mm Bore Thin Kerf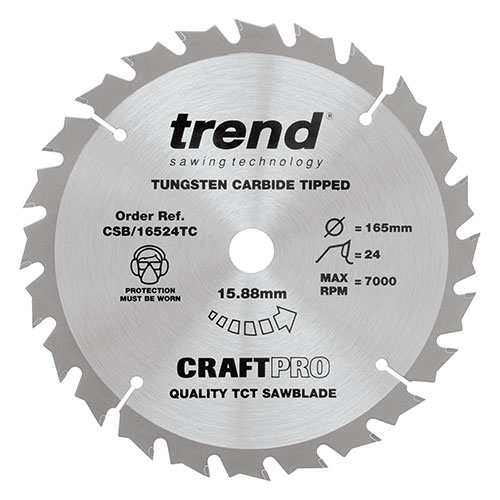 CSB/16548TC - CraftPro Sawblade 165mm X 48 Teeth X 15.88 Bore Thin Kerf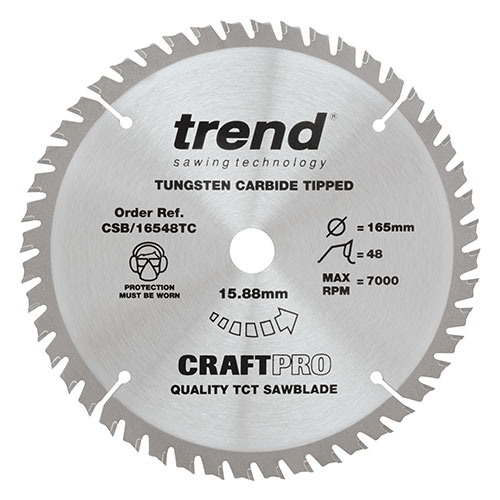 ---
Related Products
Click below to see the rest of the Trend cordless range: